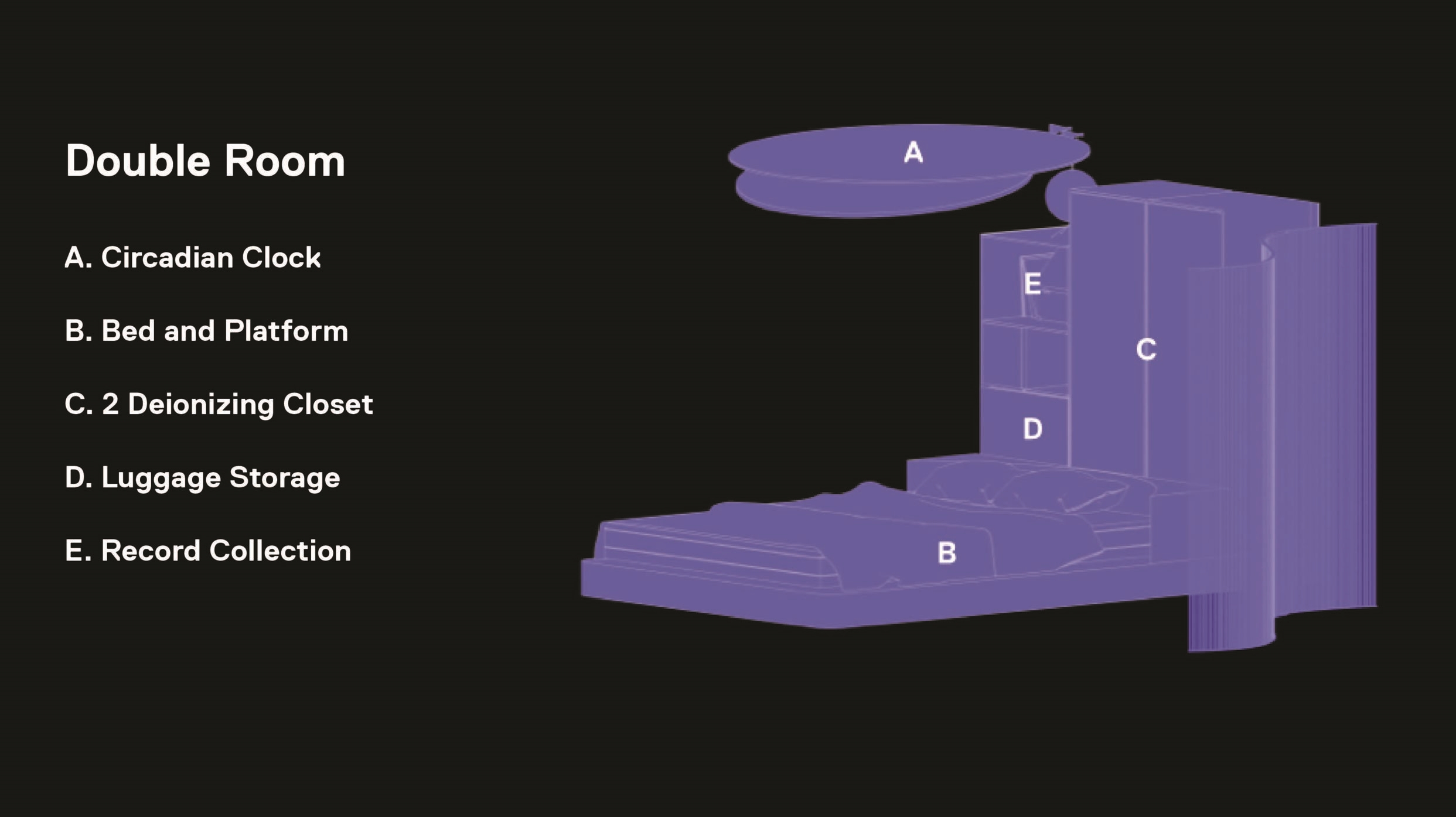 LEVEL 3
Where the Magic Happens: The Zupah suites has three main features; your very own personal Circadian Clock, a private soaking tub and a rain shower. The Circadian Clock creates a magical glow in your suite, the shower allows guests to bathe in the light and soaks are infused with Satellite mineral salts.
Bar: The upstairs bar is made from an old credenza from Berlin's past, it sits in a niche and serves only the best snacks and cocktails for guests to enjoy 24/7.

Look Out Area: Now that guests have enjoyed our Zupah suite, let's head back down stairs to meet with some friends. Satellite has almost fully shifted from orange to blue, recharging our guests for the night out.
LEVEL 2
Soaks: The soaks are inset into the floor and divided into three pools of water. We have a cold water soak, a warm water soak and a mineral soak. The pools of water reflect the glow in the space highlighting the color change.

Naps: The low beds keep our guests grounded in the space. They are divided up with small partitions to create a calm napping place for guests.

Shared Locker: Here you will find the bag that you dropped off downstairs. We store them in your personal locker/ changing room allowing guests to get ready before going out for the evening, or taking a dip in our soaks, before landing at your reserved Satellite.
LEVEL 1
Bag Check: When you arrive at Satellite you drop your bags and they will be placed in a locker in Satellites upstairs shared bathroom.
Bar: Jacking in is where you begin your Satellite journey. We have combined the check in and bar so guests can enjoy one of Satellite's specialty cocktails. We know after a long day of traveling our music lover is in much need of a drink.

Circadian Lounge: This is a key moment in our space, the Circadian Lounge. The Circadian Clock is a connection point between all three levels. The orange glow is in effect marking the Recoup time period, and the space emitting a more mellow vibe. The seating creates a landscape for guests to rest and enjoy the Circadian Clock.

DJ Concierge: Our DJ Concierge features specialty records from Berlin. Guests are lead to this space by a glowing horizon line. The sunset horizon line is an illuminated way finding element that syncs with the lighting environment and guides them to their destination.

Commissary: After a night and morning of debaucher guests are invited back to the hub for satellite's famous Chicken and Waffles. The commissary has two main points of connection. First you bond with guests in our open seating area. Second you can interact with our chef. The rings are lowered to create a more intimate setting.
 
CLICK BELOW TO EXPLORE THE THE SATELLITE SYSTEM.